Insurance for Food Trucks in Texas
Whether you're new to the food truck industry or had one for a long time, insurance is essential to ensure you're covered from the potential business dangers. Protect your food truck with coverage that is tailored to your needs as a small business. Quote Texas provides a number of coverages and advantages for commercial food truck policies.
If you live in Dallas, El Paso, Fort Worth, and other cities within our service area and looking for the best insurance coverage, you should rely on Quote Texas. Call us at 844-402-4464 or contact us online to learn more about insurance policies for your industry.
How much does it cost?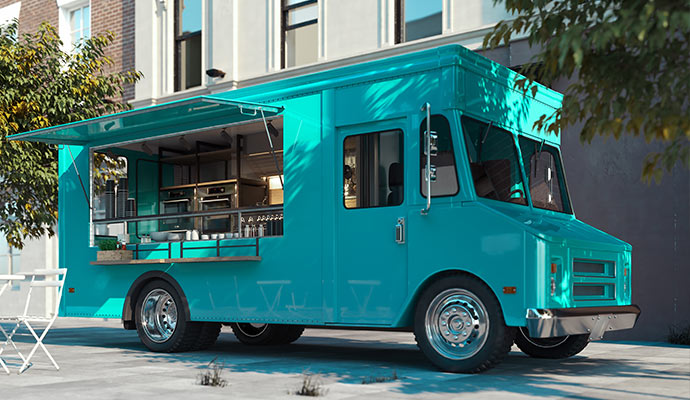 Because food truck businesses and the dangers they pose differ, the cost of food truck insurance varies. Your rate is affected by a number of risk variables, including the type of foods you sell. A food truck that serves grilled or fried items will have a different charge than one that sells prepackaged foods. Additional dangers are introduced by the grills and fryers.
Another example is the value of your truck and its associated equipment. A food truck with $15,000 in attached equipment, for example, would demand a little higher charge than one with $8,000 in attached equipment.
Types of Insurance Policies for Food Trucks
There are many forms of insurance for food trucks but the followings are the most common types of insurance for them.
Commercial Auto Insurance: For food trucks and trailers, this is vital coverage. Physical damage coverage for your vehicle, as well as any permanently attached appliances and equipment, can be added to your policy.
General Liability Insurance: This protects your food truck business against financial losses caused by accidents for which you are legally responsible. A consumer may become ill as a result of spoiled food or be burned by hot food.
Workers' Compensation Insurance: Protects your staff if they are hurt or sick at work. If you have staff, you require this insurance for your business's safety.
If you are looking for insurance coverage for your food trucks in Austin, Houston, or anywhere in Texas, call us at 844-402-4464 to learn more about our insurance policies. You can request a quote today by clicking here.