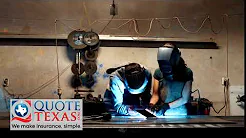 Insurance for Welders in Texas
At Quote Texas Insurance, we specialize in designing insurance policies that accommodate your needs as an Welder. When you use our services, you can rest assured that you will be provided with comprehensive coverage and excellent services without having to pay for extras you don't require. We Make Insurance Simple! We always begin with the essentials:
Contact Us For Insurance for Welders in Houston, Dallas-Fort Worth, San Antonio, & Austin
Because welders deal with dangerous situations on a daily basis and use equipment tailored to complete those tasks, there is a significant need for protection in regard to liability insurance, workers' compensation insurance, commercial auto insurance, and coverage of work-related tools. Quote Texas can help with all of this and more! When you need our services, Contact Us online or give us a call us at 844-402-4464 to get a quick quote.