Insurance for Barber Shops & Beauty Salons in Texas
Your clients expect you help them look and feel their best. You expect the best when it comes to making your barber shop or beauty salon successful. Being insured properly is part of that success, and look no further than Quote Texas Insurance for superior insurance coverage for beauty or skin care salons, or barber shops.
Quote Texas Insurance has a custom process that ensures all clients receive exactly what they desire or need. You won't pay more for extras. Our licensed staff is fully trained and educated in cost reduction and coverage enhancement. We provide our services in Fort Worth, Dallas, Austin, Houston, Lubbock, and our entire Texas service area. Insure your barber shop or beauty salon with Quote Texas Insurance by calling 844-402-4464.
Quote Texas Insurance has access to a number of carriers that may provide a comprehensive range of basic sales & service provider insurance coverage, including but not limited to:
Quote Texas Insurance Coverage Options For Barber Shops & Beauty Salons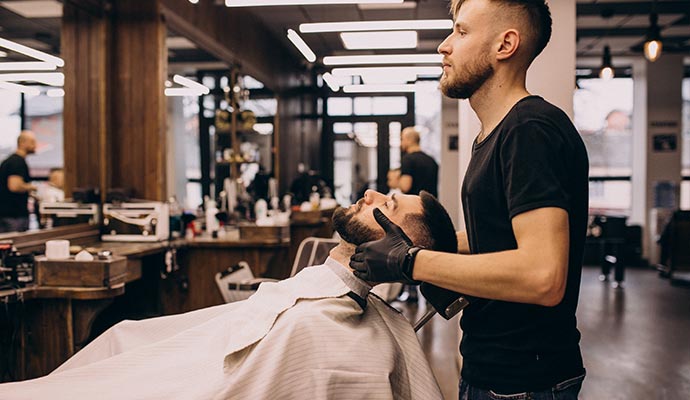 Insurance coverage options to consider in Texas for your barber shop or beauty salon include:
Liability Insurance: Salon liability insurance protects your business in a range of situations where a consumer suffers bodily harm or property damage while visiting your salon and then sues you. Liability coverage, for example, compensates for any medical bills, your legal defense, and any compensation you may owe if a customer slips and falls in the salon.
Workers Compensation Insurance: If you have staff working at your salon, you'll need worker's compensation insurance to protect yourself from financial damage caused by on-the-job accidents or illnesses. This insurance covers medical expenditures, lost pay, and any rehabilitation costs incurred by employees.
Property and Casualty Insurance: Property and casualty insurance, whether you lease or own your facility, will cover damage to the salon in the event of an accident
Trust Quote Texas Insurance to Cover Your Beauty Salon or Barber Shop in Texas
Needing a superior barber shop or beauty salon insurance policy to protect your small business? Quote Texas Insurance is one of the most experienced companies when it comes to Texas small or large businesses. Call us at 844-402-4464 or contact us online for a quote today.