Insurance for Package Delivery Drivers in Texas
Any vehicle parked or driven on public roadways is required to meet the state's minimal auto insurance requirements. If you work as a delivery driver, you must meet the required insurance requirements in Texas. A policy that specifically covers you as a delivery driver can shield you from financial liability in the wake of an accident or other perils. Quote Texas Insurance offers customized coverage for package delivery drivers in Dallas, El Paso, Fort Worth, and other Texas cities that we serve.
Whether you work for Amazon, FedEx, UPS, Uber, Doordash, or any number of other companies that employ professional drivers, you can count on our insurance experts at Quote Texas Insurance for insurance coverage you can rely on. To learn more, give us a call at 844-402-4464 or click here to make an appointment today with one of our insurance agents.
Quote Texas Insurance has access to a number of carriers that may provide a comprehensive range of basic sales & service provider insurance coverage, including but not limited to:
Types of Insurance for Package Delivery Drivers by Quote Texas Insurance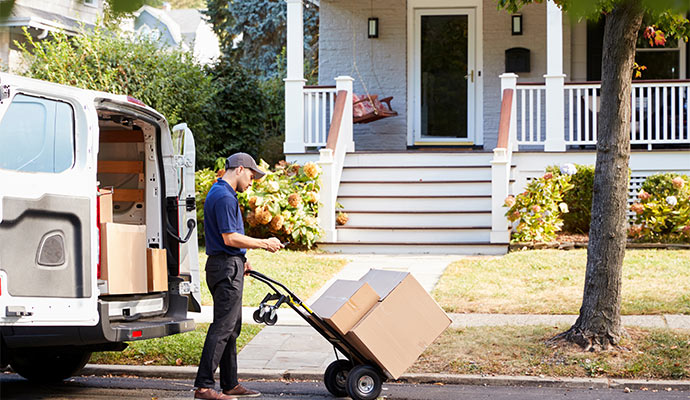 Some of the insurance policies we offer for package delivery drivers include:
Commercial Auto Insurance: Vehicles used for package delivery services are covered by this policy. Commercial auto insurance can cover physical damage or loss as well as personal injuries in the event of a collision, vandalism, or theft.
General Liability Insurance: Protect yourself against legal fees and court verdicts that could mount up quickly. This coverage provides protection from scratches inflicted on walls and flooring during the delivery process, as well as personal injury to others. Many companies require a driver to have GL insurance to enter their buildings. 
Trust Us to Cover Package Delivery Drivers in Austin, Houston, & Dallas
Since 2001, Quote Texas Insurance has provided customized insurance coverage for commercial and residential customers throughout Texas. If you are looking for insurance coverage for package delivery drivers in Austin, Houston, Dallas, or other Texas cities, call 844-402-4464 or simply click here to get a quote ASAP from one of our insurance experts.