Insurance for Home Health Care Providers in Texas
Professional home health care insurance is a necessity. You should consider home health care insurance whether you work as an independent contractor or own a home health care provider business. Insurance for home health care providers and businesses is critical since it can mean the difference between keeping your agency running and having to close due to a costly claim resulting from an accident or negligence.
If you are a home health care provider in Dallas, Austin, Fort Worth and other cities within our service area, Quote Texas is the best option for your insurance coverage. With Quote Texas, you'll never pay for more than you need with our customizable business insurance policies. Call 844-402-4464 or contact us online to learn more about our insurance coverage specific to the home health care profession.
Why Quote Texas For Home Health Providers?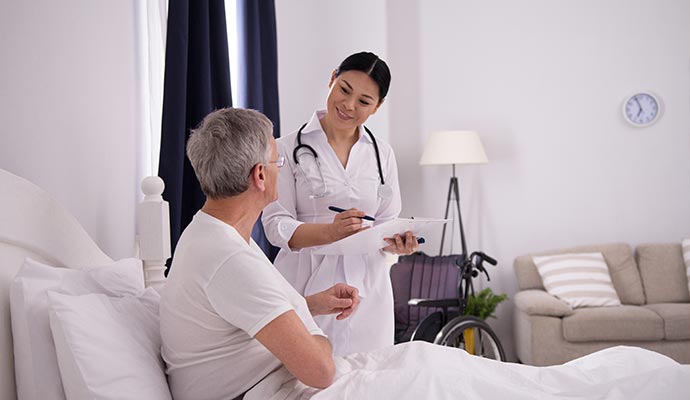 Even the most cautious home health care worker can make a mistake, misinterpret care instructions to other caregivers, suffer an injury or some other mishap that can result in a liability claim or lawsuit.
Legal fees add up, and without home health care business insurance, the out-of-pocket cost is steep. A judgement against your company without legal protection couldbe crippling. Borrowing from personal assets, laying off employees or closing your business could be end results.
Defending against false or unsubstantiated allegations can be costly. Home health care insurance protects you regardless of whether a claim filed against you is valid or not, allowing you to protect your professional reputation while keeping your business operating.
Quote Texas offers many insurance policies including general liability insurance, professional liability insurance, workers compensation insurance, and business owner's policy for home health care service providers in Texas to mitigate their professional risks.
Trust Quote Texas to Protect Your Home Health Care Business in Texas
If you are looking for superior home health care business insurance to safeguard your small business in Austin, Houston, El Paso, Fort Worth, or anywhere in Texas, Quote Texas is your go-to insurance company. To arrange a consultation and learn more about our coverage options, contact us online or call us at 844-402-4464.