RV Trailer Insurance in Texas
Few other activities are as enjoyable to Americans as traveling. Many families love going abroad for vacation, but more often than not, going interstate in a motorhome or a travel trailer is the way to go.
Quote Texas Insurance understands your desire for peace of mind when you take trips with your family and friends. That's why we do our best to provide you with RV trailer insurance policies that offer excellent protection at the lowest rates possible. Quote Texas Insurance searches through 65 carriers to find you the best match for your unique business needs!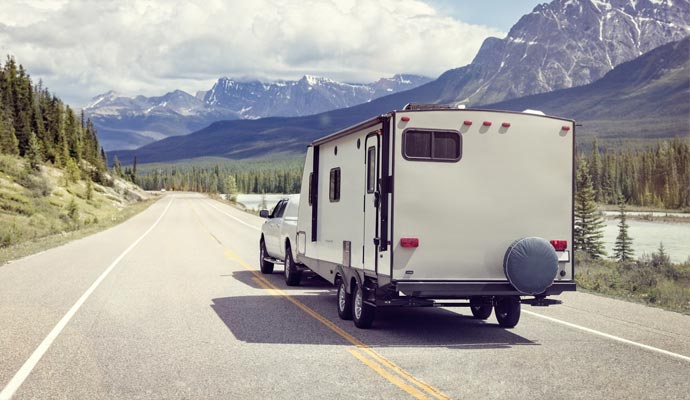 Protection for a Wide Range of RV Trailer Types
Motorhomes and RV trailers come in all shapes, sizes, and types. Avid and occasional travelers and campers use them as their home away from home, while enthusiasts of camping and touring also need some sort of RV trailer to travel with.
Motorhomes are basically self-propelled recreational vehicles and include the following: professional and non-professional bus conversions, camper vans, mini-motorhomes, and conventional motorhomes. Recreational campers and trailers also come in different forms, including: mounted truck campers, fifth wheel trailers, pop-up tent trailers, boat trailers, recreational cargo trailers, and conventional trailers.
Having a RV trailer insurance policy from Quote Texas Insurance is an easy way to provide protection for your recreational vehicle, no matter what form it may take.
Complete Coverage for RV Trailers, Campers, and Motorhomes
Mishaps can happen anytime, but a comprehensive auto insurance policy for your RV trailer, camper, or motorhome can help you feel confident, knowing that it provides coverage for damage or loss that can be brought about by events like:
Collision with another vehicle or a stationary object
Theft, vandalism, riot, and other malicious deeds
Fire, explosion, flood, earthquake, landslide, and other perils
Depending on the policy you choose, our trailer insurance solutions can also include coverage for people and properties inside your vehicle. Additionally, it can also include emergency expense coverage, vacation liability insurance, and full-timer's coverage, which is designed specifically for people who are also using their recreational vehicles as their permanent or primary residence.
To learn more about the options we offer for trailer insurance in Texas, please contact us today.