What is Covered Under Renters Insurance?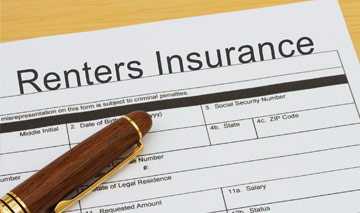 When renting a home, you need to know that your landlord's insurance doesn't include any of your furniture or belongings that you place in the home. This means your clothes, appliances, antiques, furniture and any other item you use or store in the rented home, is not covered by insurance. So when an unexpected disaster such as water damage or fire damage occurs, your landlord can have the home repaired under their insurance policy but losses for your valuables are not covered.
Because of this, Quote Texas insurance agents always recommend you protect your investments with renters insurance. If an unexpected situation happens, you will want to replace your items without setting you back with the expensive costs and renters insurance will help you do so.
So if you're curious as to what exactly renters insurance covers, it is entirely dependent on what type of policy you have. The type of coverage you get determines the amount of financial aid you will receive in the event of an unexpected situation at your home. Here are a few types of coverage plans and what you can expect from each one.
Personal property coverage – This covers the items that need to be replaced/repaired. Whether your items are damaged from water damage, a fire, or theft, this policy will cover the reimbursement for the items lost. The amount you will be able to get should you lose everything in a disaster such as a fire is dependent on the coverage limit of your policy.
Liability coverage – This covers the repair costs for damaged parts of the home. If the damages are your fault, your landlord will not use their insurance policy for the repairs but rather, you must cover the costs associated. This is where liability coverage comes in handy and it can also cover medical expenses if anyone gets injured in your rented home and you are found at fault for such injuries.
Additional coverage – This covers any expenses you may have if you have to leave your home for a period of time. This can help cover hotel stays and other expenses if you have to leave your home while it's being restored/repaired.
You should always protect your valuables and get renters insurance when renting a home in Texas. At Quote Texas Insurance, we can offer you a free quote for your renter's insurance policy - as well as homeowners insurance, business insurance, and even auto insurance. Contact us today at 844-402-4464 for an insurance policy review and recommendations for what type of insurance policies can protect you and your future.