General Commercial Liability Insurance in Port Arthur
The unique placement of Port Arthur, TX in the map has contributed to the exceptional allure of the port town. You're still in Texas but the Cajun vibe is undeniable. It has lots of water and marshland, encouraging residents to try fun outdoor activities such as fishing, kayaking, bird watching and a lot more.
Businesses in Port Arthur trust Quote Texas for their general commercial liability insurance needs because every business requires protection from possible financial burdens that could result from untoward incidents. Employee actions are not always in your control and you want to protect your business from damages that could potentially result from the actions of your employees.
We have developed an effective 8-step system that helpfully identifies the best possible policies to match your business needs while keeping the costs as low as realistically possible.
Commercial Auto, Property & Small Business Insurance by Quote Texas
We understand that different businesses in different industries will require very different insurance policies. That's why we offer the services below.
• Commercial Liability Insurance - Port Arthur has had its share of natural disasters, including hurricanes and major floods. General commercial liability insurance may cover damages and losses related to natural disasters, theft, and vandalism. Every day that you open your business, you are exposed to risks that you may not even imagine possible. Contact us today to discuss how we can help you.
• Commercial Auto Insurance - The sheer number of road accidents that happen daily is mind-numbing. Sure your car may have personal car insurance, but that won't be enough to cover damages related to business. A commercial auto insurance policy gives you the protection your business needs.
• Commercial Property Insurance - An important thing to remember is that other people rely on your business. If any untoward incident happens to your business property, you'd want to get back up and running as soon as possible so you'll be able to help your customers again. By acquiring commercial property insurance, you protect yourself as well as all the people that rely on your business.
• Small Business Insurance - Opening a business is one of the bravest things you can do. As a business owner, you have to be gutsy and smart at the same time. That means you will think ahead of time and make sure that your business is protected against financial burdens that could result from accidents, injuries, property damage, or lawsuits.
• Workers' Compensation Insurance - Taking care of the needs of your employees is part of being a good business owner. If your employees know that you are taking good care of them, they will, in turn, take good care of your customers. Your customers, in turn, will become loyal to your business. By providing your employees with workers' compensation insurance, you are communicating to your employees that you care about them and you have them covered.
Trust Quote Texas with Your Business Insurance in Port Arthur
At Quote Texas, we make insurance simple. Find out how we can help your business in Port Arthur, TX grow and prosper workers' compensation insurance, general liability insurance and more. When you need our services, give us a call at 844-402-4464 or reach us online by filling out our contact us page for more information.
Customer Reviews from Port Arthur
Jeanetta Loya from Port Arthur, TX
Reviewed on Review Central
Nov 6th, 2018
Great service and fast response times .
Blogs related to Port Arthur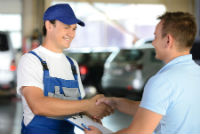 Garagekeeper's Liability Insurance Explained | Texas
What Garage Liability and Garagekeeper's Liability cover are very different and yet people tend to interchange what each type is covering.
Protect Your Assets by Getting Equipment Insurance
When asked about getting equipment insurance, most business owners think that it's safe to skip it. However, entrepreneurs should get it. Here's why.