Business Insurance in Austin, Texas
Whether you have a rental property business, a retail store, a consultancy firm, or a medical clinic in Austin, Texas, it always pays to have commercial general liability insurance. Just think about it. What will you do if you are sued, for instance, when one of your clients fell off your office's stairs because one of its tiles were broken? Or what about if you were asked to pay for compensation because your broken store signage fell on a customer's car?
Without insurance, you'll be forced to pay for such litigation and compensation costs out-of-pocket. A commercial general liability insurance policy is really helpful because it protects businesses from the most common liability issues. It covers you financially when you are taken to court because of accidents that result in bodily injuries and deaths or damage to other people's property. Additionally, it also covers advertising and personal injury, like when someone sues your business for charges like slander, copyright infringement, invasion of privacy, and so on.
Complete insurance solutions for businesses in Austin, Texas

General liability insurance is only the first step toward affording your business comprehensive insurance protection.
At Quote Texas Insurance, we are prepared to help your business get the most complete and affordable insurance packages that will cover you from various other risks. These include commercial property insurance, workers' compensation insurance, professional liability insurance, commercial auto insurance, and construction and equipment insurance.
On top of these commercial insurance policies, we also offer regular homeowner's insurance for property owners in Austin. Moreover, we also design profession-specific insurance packages for a variety of small- to medium-sized business, which form the bulk of our clientele.
For inquiries about our products and services, please get in touch with us today. We will be more than glad to discuss your requirements and come up with an insurance package that is the best fit for your enterprise.

Learn about Austin, TX
The city of Austin in Texas traces its roots to 1839, when the Congress of the Republic of Texas formed a commission to survey areas for the country's new capital. The commission chose a site originally known as Waterloo,which was strategically located between important routes.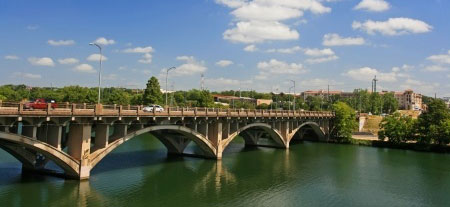 The republic's president, Mirabeau Lamar, assigned entrepreneur Edwin Waller to design the city's downtown grid plan. In the same year, the first auction of lots from the new city was held. During its early years, the founders of Austin received intense opposition from political rivals who didn't want the area for the new capital. In 1845, however, the republic's fourth president, Anson Jones, finally decided that Austin should be the capital, even as the Texas Congress voted for the country to be annexed by the United States. After going through the bitter conflict that was the American Civil War, Austin saw a period of population boom and economic growth. Beginning in the 1870s, Texas became a major center of cotton and cattle in the region. These industries would remain strong until diminishing in importance a few years later. The first public schools in the city opened in 1881, while the University of Texas at Austin was inaugurated in 1883. The state capitol building opened in 1888.

Between the 1920s and 1930s, Austin initiated development projects that would create many of its parks and recreational areas. By the 1950s, the city has become one of the largest metropolitan areas in Texas. Today, more than 890,000 residents call Austin their home. Aside from being a center of culture and the arts in the region, the city is also a hub of software businesses and home to leading manufacturers of semiconductors.
Customer Reviews from Austin
Estimate Request from Austin, TX
Zachary P. on September 8, 2016 2:44:01pm
Need a quote on general liability for my company...as well as builders risk for a project I have.
Adam B. on June 22, 2016 5:06:31pm
Buying a newly built duplex in South Austin with my Father (He will live in Unit A, and I will live in Unit B). Need the best priced and highest value for homeowners insurance! Thanks in advance -Adam
Nicole R. on June 21, 2016 12:54:09pm
Commercial Liability Insurance: Death/Bodily Injury: $300,000.00 Property: $100,000.00
Chris D. on November 10, 2015 2:09:25pm
Looking for 500k-1M policy for my contracting company. 100% of business is contracted out. We do mostly painting with some drywall and haven't done wood floors yet but I want to. I'm the only employee of the company, all the rest are contractors. Some are insured, some aren't.
Robin D. on November 9, 2015 4:40:02pm
I'm building a house, acting as my own general contractor, with a permit. I should have gotten insurance to begin with, but it just occurred to me today. Please call.
marie-pier l. on October 13, 2015 11:50:57am
I need to know an approximative price for my futur business. I am opening a coffee shop in austin 78704. around 1400sqf, 5 employees including myself. There will be no kitchen, but we will retail food and snacs. thank you
Gale B. on February 5, 2015 3:43:38pm
I need to obtain any and all loss reports for Swann's Garage policy # MP0042023001245 Contract # MWFO36156 09-04/14 -10-29-14